Silver Skate Tool Gold Premium Ratchet Complete Skateboard T-Tool FREE POST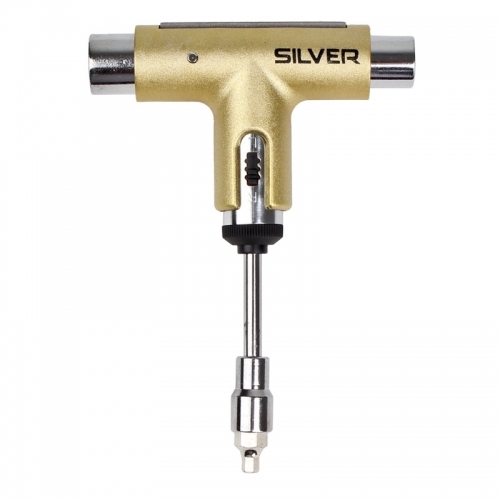 SILVER TRUCKS
Silver Truck Company have came up with one of the best skate tool's we've seen. "The Pro Standard Premium Ratchet Skate Tool!"
This bad boy does it all, it'll tighten and loosen all your bolts and nut's and even has a file so you can file your griptape while you're away from home.
Plus Silver's team consists of Professionals Josh Kalis, Chaz Ortiz, Cody McEntire, Daniel Cerezini, Ryan Gallant, Matt Bennett, Chad Tim Tim, Alex Mizurov, Yoshi Tanenbaum & More
Specifications
Brand New
All Purpose Skate Tool
3/8" socket with Exclusive Ratchet.
9/16" socket Easily Tighten/Loosen Your Trucks 
1/2" socket Comfortably add/remove & secure your wheels
Removable Phillips Head Screwdriver
Detachable Allen Key Magnetic Attachment
Precision Double Cut Medium Grade File For A Smooth Griptape Edge
Free Dynamite Grip with your deck! While stocks last.